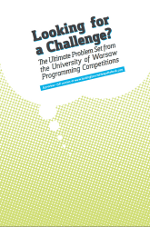 Coming Contests
No contests scheduled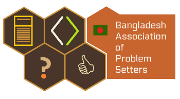 Happy New Year and first outcome of your support
From the Online Judge we want to wish you a Happy 2020 and say thank you to all our supportes. Your help has made us reach a first goal. We have been able of taking the time to translate to Spanish and publish the Steven and Felix Halim masterpiece "Competitive Programming 3", under the title of "Programación competitiva".
Buy it at:
Also, for all our users around the world, a new edition of the classic "From Baylor to Baylor" is available for buying (notice: it has the same contents of the first edition, with only some formatting updates, but it is still a must have).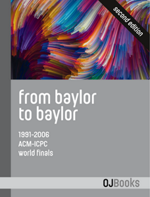 ISBN: 978-1711337036
Buy it at:
You can find them at your Amazon store, both in paperback and Kindle editions, and will be available to any bookstore in the world in a few weeks. Enjoy them.
Let's go for a great 2020 for the Online Judge, with more news coming soon. Also, don't forget that your contribution and support is still needed and will make the site grow bigger and better.
Don't forget that you can contribute to the site by buying the books, or using any of these three methods:
Through Patreon at: https://www.patreon.com/onlinejudge
Through Bitcoin at: 1ojudgeapLUjJcnUmze67a4w3TJ6WnPxo
Categorized set of problems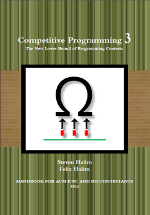 This book contains a collection of relevant data structures, algorithms, and programming tips written for University students who want to be more competitive in the
ACM International Collegiate Programming Contest (ICPC)
, high school students who are aspiring to be competitive in the
International Olympiad in Informatics (IOI)
, coaches for these competitions, and basically anyone who loves problem solving using computer programs (clik on the picture for buying it).
There are about 1675 problems arranged in categories you can access from the 'Browse Problems' menu on the left of the main page.
"I cannot imagine a better complement for the UVa Online Judge site" -- Miguel A. Revilla, UVa Online Judge site creator, ACM-ICPC Problem Archivist